It all started with a tweet:
@chiuki Hi! I'd like to invite you to speak about Android in June in Mocsow. How can I contact you?

— Дарья Ряжских (@darja_ryazhskih) March 8, 2013
My first reaction was, woah, Moscow? Not quite sure if I'd like to make the journey all the way from Silicon Valley. But after thinking about it for a while I decided, hey, why not. Initially I was going to make visit both Moscow and St Petersburg, but I was a bit daunted by the task of acquiring train tickets in Moscow, so I ended up just going to Moscow.
I arrived Moscow the day before DevConf, and the organizer was kind enough to come pick me up from the airport. I saw the beautiful Moscow metro on my way to the hotel.

Mosaic at Mayakovskaya station

Moscow metro
In the evening I had dinner with other out-of-town speakers, and then the organizers took us for a talk.

St Basil's Cathedral

GUM department store

State Historical Museum
Conference Day
The conference is from June 14 to 15, but the organizers told me that the second day was all Russian workshops, so I could go sightseeing that day. I assumed then the first day was talks in English, but when I showed up I discovered that all but three talks were in Russian. One was mine, the other two were on the same slot.
I gave my Android Custom Components talk. Here I was, explaining Canvas using the flip board:
Photo Credit:
Antony Dovgal
After that I went the Android productivity talk by Alexandre Thomas: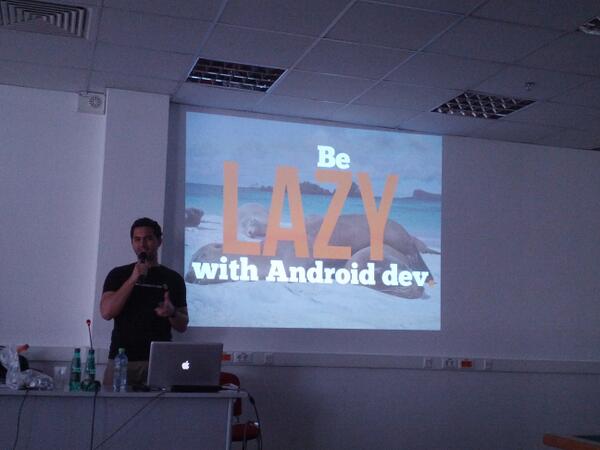 And that was it. The rest of the conference were all in Russian. I ended up going for a walk with Alex and his girlfriend. There was a market right behind the hotel, with lots of interesting buildings:
And then we went to this really big park next door.
For dinner, we found two restaurants next to the hotel. One serves everything with fries, the other one is a Japanese restaurant. So we had sushi for dinner!
Turns out sushi is rather popular in Moscow, to the point where I recognized it in Cyrillic - суши.
Sightseeing
Saturday the organizers took us all around Moscow. First we went for a river cruise.

Russian Academy of Sciences

Ministry of Defence

Peter the Great Statue
Next we went to the Kremlin.

Kremlin

The Trinity Tower

The Assumption Cathedral
For lunch with went to Sanduny for tradition Russian food. It was so nice that I forgot to take photos!
After lunch we went for a walk. Saw the Bolshoi Theatre, GUM department store, St Basil's Cathedral and the Arbat area.

Bolshoi Theatre

St Basil's Cathedral
The DevConf Russia organizers took such good care of us it was quite amazing. They showed us around town, paid for everything, and even carried water bottles for us! I felt bad for not spending too much time at the conference, but it was really difficult to sit in sessions conducted in a foreign language. Hope the people who came to my talk found it useful!